Gaffney, SC Orthodontist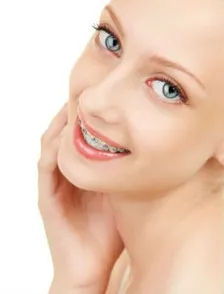 It's been proven that humans are captivated by beautiful smiles, so it's understandable why you'd want to get dental braces for cosmetic reasons. But straight teeth don't just look better; they're healthier, too!
Here's why:
When teeth are properly aligned, they're easier to clean. When your teeth are clean and dental plaque-free, you're less likely to need a tooth filling or gum disease treatment. If you've been experiencing nagging headaches and neck pain, wearing braces can help correct misaligned jaw joints, which may be the source of the problem. Braces can also help prevent excessive wear of your teeth and help you chew better.
Fortunately, today's dental braces have come a long way from the days of "tin grins" and metal mouths. So if you're reading this because you're considering taking the braces plunge, you'll be thrilled to learn that you can get your smile back on track without sacrificing appearance or comfort!
Traditional Braces
Braces work by applying pressure to the teeth, moving them gradually over time. Most of this pressure is applied by a metal wire called an archwire. The archwire is attached to tiny brackets placed on each tooth. These brackets used to wrap all the way around the tooth creating the look of a "metal mouth"; now they're tiny and glued on the front of each tooth. Rubber bands called ligatures go around the brackets and put added pressure on the teeth.
Type of Braces:
Metal Braces
need no introduction. But you might be surprised to find they're smaller and lighter than ever. They may even offer some customized options, like colored elastic ties on the brackets. Traditional braces are comprised of brackets that are affixed to teeth and wires that are threaded through slots in the brackets. Wires are held to brackets by tiny rubber bands called "ligatures" or "o-rings." Brackets are generally made of stainless steel. Wires are made of metal alloys and deliver a constant, gentle force to move teeth.
Clear Braces feature brackets made of ceramic or composite materials which blend in with your teeth, making them harder to notice. They're suitable in many situations, but they cost a little more
Lingual Braces offer the most unnoticeable form of orthodontic treatment because they are attached to the back (tongue side) of the teeth, where they cannot be seen at all.
Invisalign®
The Invisalign braces system uses a series of clear, removable aligners. The biomechanics of Invisalign are exactly the same as traditional metal dental braces. The series of custom-made aligners press directly on the teeth to exert pressure and gradually move them into place.
Invisalign braces are transparent and virtually invisible to the naked eye. Invisalign can be used for virtually any type of malocclusion with positive results. While a lisp is common during the first day or two of wear, you'll get used to the fit in no time.


Clear Correct
The ClearCorrect transparent orthodontic aligner system is a comfortable, lifestyle-friendly alternative to braces. Practically invisible, these innovative clear braces are an ideal solution for people who want to improve the appearance of their smile without calling undue attention to their teeth in the process. Thanks to ClearCorrect and similar aligner systems it's now possible to straighten teeth without braces, wires and brackets.

Unlike traditional wire and ceramic dental braces, which are "permanently" cemented in place, ClearCorrect clear braces use a series of custom-made removable aligners to straighten your teeth. Designed to work in stages, each transparent aligner moves your teeth just a tiny bit so that over time your teeth eventually straighten. In addition to improving the appearance of your smile, ClearCorrect clear braces can straighten and align teeth that are crooked or turned. ClearCorrect aligners work whether your teeth are crowded or spaced and can correct most overbites and underbites.


Want a new smile with our orthodontic services at L. Wes Turnage Jr. DMD? Call our Gaffney, SC orthodontist office
at (864) 489-4708 for more information or to book an appointment!